[I don't fully understand the operation or universe of potential or preferable applications of "Counter-mapping," but then again, sometimes I have trouble figuring out how to apply GIS tools. It does seem, however. that these concepts could be useful in addressing the interface between local, artisanal users of natural resources, such as fishers, and new conservation needs and programmes. There is a useful list of references at the bottom of this article.]
From The Guardian —
Counter-mapping: cartography that lets the powerless speak
How a subversive form of mapmaking charts the stories and customs of those who would traditionally be ignored.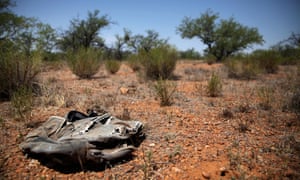 Sara is a 32-year-old mother of four from Honduras. After leaving her children in the care of relatives, she travelled across three state borders on her way to the US, where she hoped to find work and send money home to her family. She was kidnapped in Mexico and held captive for three months, and was finally released when her family paid a ransom of $190.
Her story is not uncommon. The UN estimates that there are 258 million migrantsin the world. In Mexico alone, 1,600 migrants are thought to be kidnapped every month. What is unusual is that Sara's story has been documented in a recent academic paper that includes a map of her journey that she herself drew. Her map appears alongside four others – also drawn by migrants. These maps include legends and scales not found on orthodox maps – unnamed river crossings, locations of kidnapping and places of refuge such as a "casa de emigrante" where officials cannot enter. Since 2011, such shelters have been identified by Mexican law as "spaces of exception".
Travelling through tree-covered areas is a slow and arduous process, as is travel through politically unstable areas. Scale on an orthodox map is uniform; counter-maps can represent psychological as well as physical distances that are rarely linear or uniform. In the town of Duvergé in the Dominican Republic, I once interviewed a Haitian migrant who had dealt with civil unrest, a long mountain chain, forests, police checkpoints and clusters of militias (chimères) on his journey across the border. Although geographically his home town was only 177km away, he was psychologically about as close to home as a Londoner is to Murmansk.
Counter-mapping's ability to capture this fragmentation also makes it a useful tool for documenting physical transformations wrought by climate change. In the Arctic, melting sea-ice is opening up the Northwest Passage to the possibility of greater transcontinental shipping. Questions of sovereignty over these waters are pressing, and the traditional function of maps has been to impose the stamp of a crown on vast swaths of the Earth. In the Arctic, as in Africa and Asia through the 19th century, it suited many Europeans, Russians and Americans to think the land was empty before they arrived. In the mining town of Labrador City, there are curiously named lakes: Tanya Lake, Beverly Lake, Carol Lake. Curious, until you learn that Carol was the wife of the chief geologist of the Iron Ore Company of Canada (IOC). The names date from the 1950s.
And if a scientist frowns at the mention of storytelling, just remind them of the names of places to be found in anatomical atlases of the brain – the amygdala (the almond) , the hippocampus (the seahorse) , the globus pallidus (the pale globe) . Mapping is eternally linked to stories, and counter-mapping acknowledges the use of more than one knowledge base. It also has the possibility to counter the naïve, sometimes malign, simplicity of state lines. Arctic people in particular know a thing or two about these lines – the Sami were often burdened with paying taxes to three nation states at a time.
One of the fundamental overlaps between the counter-mapping of the Arctic and the journeys of migrants is that in both cases there is no single scientific or technical solution to the problem at hand. Alleviating the problem depends as much on ethics as equations, and Inuit people have different ethical obligations to the Arctic to IOC geologists. The answer to the question "whose woods are these?" is not singular. Counter-mapping at least helps us to give more weight and representation to customs and claims on the land that have traditionally been ignored.
References
The International Migration Report 2017 (Highlights), Multimedia Library – United Nations Department of Economic and Social Affairs
Human Rights of Migrants and Other Persons in the Context of Human Mobility in Mexico, Inter-American Commission on Human Rights, 2013
Campos-Delgado, A, Counter-Mapping Migration: Irregular Migrants' Stories Through Cognitive Mapping, Mobilities, 2018, 0: 1–17
Peluso, NL, Whose Woods Are These? Counter-Mapping Forest Territories in Kalimantan, Indonesia, Antipode, 1995
Rompkey, B, The Story of Labrador, McGill-Queen's Press, 2005
Cabot, WB, Labrador, 1858